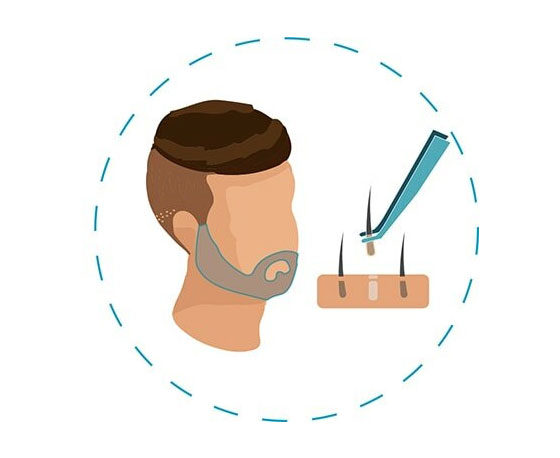 Beard and moustache appearance have a significant place in men's style. Transplantation is the best solution for filling areas where there is thinning, sparse or no growth. It can be due to various causes like hereditary sparseness, secondary to dermatogical diseases, drugs or trauma.
About the procedure
It is a day care procedure that is done under local anesthesia. The scalp hair is trimmed and the donor site – that is back of the scalp, between the two ears, is marked. The latest technique is follicular unit extraction (FUE) wherein micro-punches of 0.7 – 0.8 mm sizes are used to dissect the follicular units. This ensures a negligible scar at the site of harvest. Each hair follicle usually contains 2-4 hairs which are dissected and implanted into slits which are made in the recipient area in the beard/ moustache. Time taken for the procedure is around 1-2 hours depending on the number of grafts used.
Recovery & healing
Patient can resume his daily activities from the very next day of surgery. Post op dressing is removed after 36 hours following which washing with a mild baby shampoo is advised. Antibiotics and pain medications are prescribed to ensure patient comfort.
Risks
Most commonly observed complaints are-
Post operative pain (which can be controlled with the use of painkillers)
Oozing and minor bleeding from the donor site
Crusts around the transplanted grafts, which can be gently removed with shampoo and saline soaks .
Post operative effluvium/ hairloss from donor site, which resolves spontaneously
Folliculitis of the donor site (if proper asepsis is not followed during the procedure)