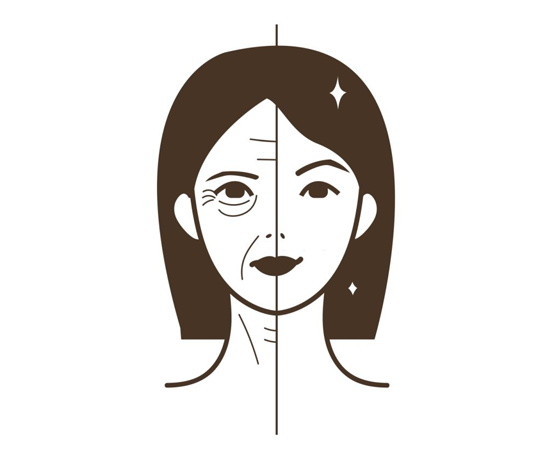 We all want to look our best. That's not always easy, especially as forehead and frown lines start to develop when we age. As these creases deepen, they can make us appear angry, when in fact we actually feel quite content. Neurotoxin helps eliminate these perpetual frowns and restores a more serene quality to our faces. The use of neurotoxin allows us to send others the right message, giving them a truer impression of how we truly feel.
About the Procedure
Neurotoxin is injected with a tiny needle into the muscles that cause us to frown and wrinkle our foreheads. The results of these injections can be seen within 10 minutes. They numb the muscles that control facial expression from working, softening the lines of the forehead and the deep furrows between the eyebrows. To minimize discomfort, we apply numbing cream to the skin and use a vibrating device or a cooling machine to reduce pain and bruising.
Recovery and Healing
Neurotoxin injections cause almost no redness or swelling. You may drive yourself to and from the treatments and resume normal activities immediately after the treatment. These are called lunch time procedures with zero downtime. The effects of a neurotoxin injection last for 4 – 6 months and after that it could be repeated
Risks
Neurotoxin is injected with such a tiny needle that there is minimal pain involved. No sedation or anaesthesia is required. There may be minimal and temporary bruising at the area of the injection. When used in the forehead area, there have been no known reports of permanent side effects with Neurotoxin. Occasionally, some facial asymmetry will develop, which can be treated with additional injections. It will resolve on its own without treatment. Headache is a rare side-effect. More often, migraine sufferers will note a decrease in the frequency of their attacks. Allergic reactions are uncommon, but some patients may get only a partial or minimal response. The average time between injections is approximately four months.
Soft Tissue Fillers
As one grows older, the face begins to show signs of aging. Gravity, sun exposure, and years of smiling, chewing and squinting take their toll on our appearance. No matter what you do to try to maintain your youth, some degree of aging is inevitable.
When possible, most people would opt to postpone the laugh lines, smile lines, crow's feet, and other rites of passage. Soft-tissue fillers, like injectable collagen, fat or alloderm, can help to soften those lines and creases, allowing us to look our best and feel better about ourselves.
About the Procedure
Soft-tissue filler injections are in-office procedures. The three most used materials are collagen, fat, and alloderm. Each substance has individual guidelines for use, but injections will need to be repeated to maintain the effects of the treatment. Discuss with your doctor which filler would work best for you.
About Fat Injections
Fat injections involve extracting fat from your own body. After the skin is anesthetized, a tiny needle is used to remove fat from donor spots such as the hips, thighs, belly or buttocks. It is then injected into deep wrinkles and other problem areas. Since the fat is your own tissue, it will be accepted by your body and not be rejected as a foreign substance.
Recovery and Healing
Slight swelling and occasional bruising can be expected for 24 hours after the treatment. You may also experience minor stinging in the injected area. Within two days, the swelling is usually gone and you can cover any remaining redness with makeup.
Risks
The possibility of an allergic reaction is not a factor for fat because it's harvested from a patient's own body. There is, however, a slight risk of infection and other infrequent complications. Uneven correction is sometimes a problem with fat injections.