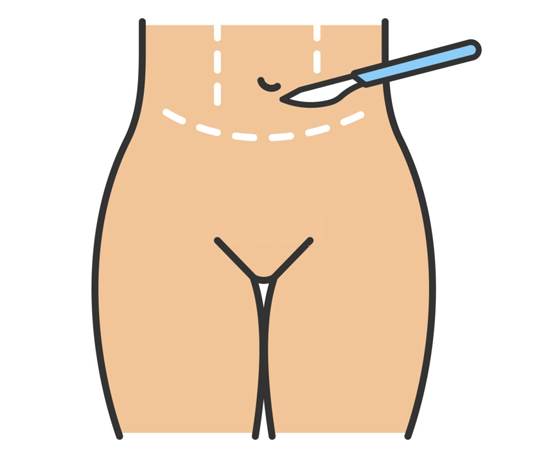 People are very conscious about their body shape and size nowadays. The abdomen is one region where weight gain is reflected the most. Even though diet and exercise are very effective in reducing weight and abdominal fat, sometimes the stubborn fat and excess skin in the abdomen can trouble people very much. They benefit from a lipoabdominoplasty surgery in which liposuction is combined with the excess skin removal. It's very common for women to have a lax abdominal muscle with some central gaping along with the above-mentioned problems. Also, the worrisome stretch marks are removed completely or partially during the surgery.
Liposuction or Tummy tuck?
It's a very critical call for the clients to decide on whether he/she needs a minimally invasive procedure like a liposuction or a more extensive procedure like a tummy tuck. The decision will be taken after considering various factors, such as the amount of skin excess, the client's age, chances of skin retraction, laxity of abdominal wall muscles, the amount of fat inside the abdominal cavity, presence of existing stretch marks and completion of family. 
Types of abdominoplasties
There are mainly two types of abdominoplasties, namely a full tummy tuck and a mini tummy tuck.
Mini or full tummy tuck?
A full tummy tuck may take longer to recover than a mini. All the advantages and disadvantages will be discussed in the first consultation to decide on what procedure is the best for the client. Therefore, the selection of the right procedure is the key.
May I get pregnant again after a tummy tuck?
Even though the client can get pregnant after the tummy tuck, it is generally recommended to wait till completion of the family. If a woman gets pregnant after a tummy tuck, the skin can stretch again, muscles can gap and there could be new stretch marks.
Add-on procedures with a tummy tuck surgery
When a tummy tuck is combined with breast surgery (breast augmentation/breast reduction/breast lift/augmentation with lift/breast fat grafting), it is called a mommy make over. The common combinations along with a tummy tuck surgery are breast surgeries, genital rejuvenation surgeries, Brazilian butt lift (buttock reshaping surgery), arm or thigh liposuction. These procedures will be selected depending on the duration of the full surgery, after surgery positioning of the client while recovery, time taken for recovery, the client's current affordability and things like that.
Recovery after surgery
After a mini tummy tuck, clients usually recover and start their normal activities within 1-2 weeks' time. To recover from afull tummy tuck can take 2-3 weeks' time. Exercise and major out-door activities should be avoided for a month.