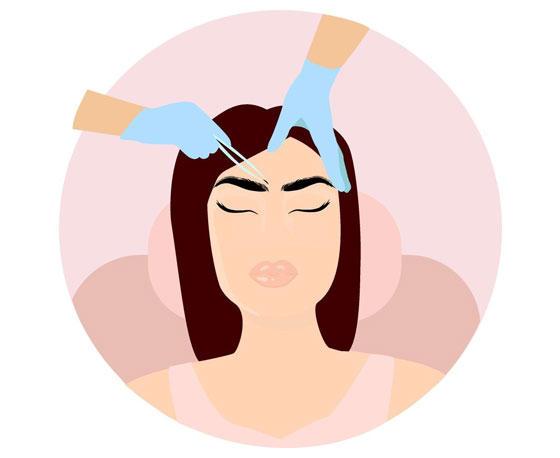 Clinical Dermatology Research
The most common indications of eyebrow transplant are:
Congenital absence or inadequate coverage of a normal appearing eyebrow
Uneven eyebrow with lack of lateral third or medial portion
Trichotillomania
Scar due to trauma, burn or tumours
Stable alopecia areata
Madarosis due to hypothyroidism, leprosy, etc.
We denounce with righteous of pleasure indignation and dislike men who are so beguiled and demoralized by the charms of pleasure of the trouble that moment so blinded by desire that they cannot foresee the pain and trouble that are bound.blinded by desire that they cannot foresee.
About the procedure
The first step is to design the eyebrow hairline- shape, symmetry and dimensions. Next, a ring block anesthesia is given using an injection of lignocaine + adrenaline. A pressure tape is applied below the brow to prevent post-operative eyelid edema. The donor area could be occipital area, pre-auricular or nape of the neck. In an FUE procedure, hair needs to be trimmed prior to transplant.
Usually, 0.70–0.80 mm sharp serrated punches are preferred. On an average, 200 single FU each side are required at a density of not more than 30–35 FU/cm2.
Usually, not more than 200 FU are taken at one point of time. The grafts are stored in chilled saline 4–8°C for hydration. They are implanted using no touch to root technique with use of 2 forceps.
Recovery & healing
Recipient areas are kept open and donor area dressing is done for 2 days. Liposomal ATP in normal saline (1:10 ratio) is given as a spray every 2–3 hourly. Bruise and swelling can last for few days. Antibiotics, painkillers and oral steroids 40-60 mg/day are given for initial 3–5 days. The patient can start doing make-up on the periorbital area from the next post-operative day and in the eyebrows after all crusts have fallen off. Hair wash starts after 3rd post-operative day, that is, after removal of dressing. Initially, almost all brow transplanted hair fall due to anagen effluvium. Hair regrowth begins at 3–4 months. In next 4–6 months, number increases leading to increased density. Patients are instructed to apply hair gel from 3-week onwards to train misdirected hairs. No touch-up session are done before 9 months of transplant.
Risks
Most common complications are related to direction and curl, colour and texture mismatch or lack of regrowth. These complications are operator dependent and decrease with experience and using the right technique.
There can be asymmetry because of frontalis or orbicularis retraction after giving anaesthesia which creates misjudgment regarding eyebrow shape whilst slit creation.
Infection, swelling, bruise, folliculitis and scarring are rarely seen.