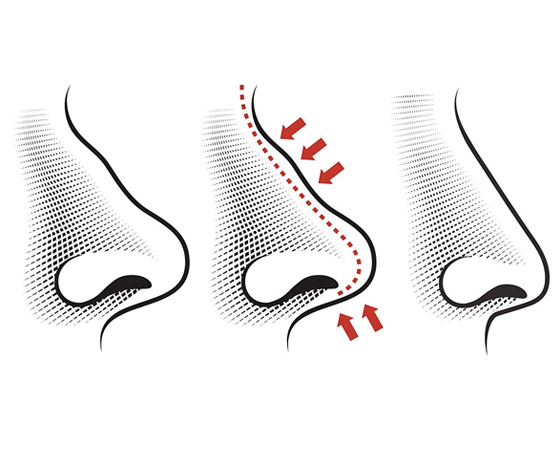 Reshape your Nose, Regain your Confidence
The nose plays a major role in the aesthetics of the face. Since the nose has a pivotal role in the symmetry and proportions of a face, people often put too much emphasis on nasal aesthetics. A successful rhinoplasty or nose job can make a huge difference to one's facial profile. Every rhinoplasty surgery must be properly planned and implemented so that the results fulfill the client's expectation. The surgery must be properly discussed beforehand and followed by a simulation to check whether the client is satisfied with the proposed result.
At Cosmetiq Clinic Dr.Bibilash Babu always ensures that the first consultation is an informative session. The first consultation usually starts with a facial analysis to check the proportions of the face and look for any anatomic or functional problems to the nose. This is then followed by a discussion about the best treatment options and simulation available. After the initial discussion, client is then given enough time to decide what he or she wants to do.
The final procedure selected by the patient can be a Non-surgical rhinoplasty, where a dermal filler is used (An Outpatient Procedure) or a Surgical rhinoplasty. Rhinoplasty is a daycare surgery (meaning that the client gets discharged on the same day) at Cosmetiq Clinic. The complexity of a surgery varies from client to client, depending on the areas of the nose that are getting fixed. Depending on that, a rhinoplasty can be a closed rhinoplasty, in which there are no visible scars on the nose, or an open rhinoplasty, where there will be a small, hardly noticeable scar in the columellar region.
Types of Rhinoplasty