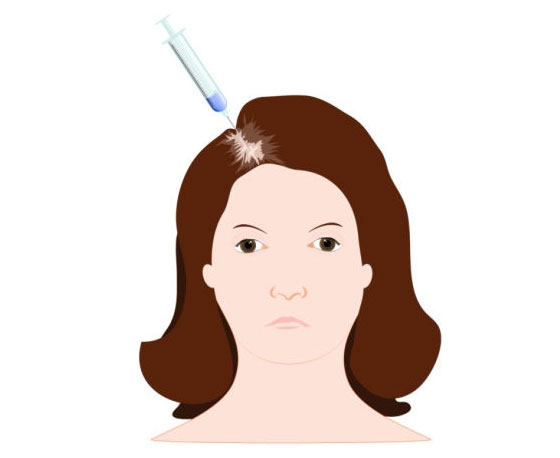 Platelet Rich Plasma Therapy
The utility of platelet-rich plasma (PRP) has spanned various fields of dermatology from chronic ulcer management to trichology and aesthetics. Platelets are cells in the blood that contain more than 30 bioactive proteins, many of which play a fundamental role in hemostasis or tissue healing.
About the procedure
10-15cc of a patient's blood is withdrawn into a test tube coated with an anticoagulant. It is then placed in a centrifuge machine that separates the blood into different layers depending upon the specific gravity of individual cell components. This PRP contains platelets up to 5 times the concentration of the original blood sample. This is then injected into the required site – mostly in the scalp in cases of alopecia. Since PRP contains many growth factors such as platelet derived growth factor (PDGF), transforming growth factor (TGF) etc., it stimulates hair growth.
About the procedure
The PRP injection technique is a simple office procedure with no downtime. The patient can resume his/her daily activities after receiving a treatment session. At least 4-6 sessions are recommended every 3-4 weeks in order to obtain satisfactory results. In case of treatment for alopecia, the patient may notice visible results in the form of thicker, darker hair growth with increase in density.
Risks
Since the patient's own blood is injected into the specific treatment area, side effects are negligible
Pain during injection, which can be minimized using topical anaesthetic creams, vibrational device, cooling machine, ice or by giving a nerve block.
Mild bruising.
Infection, in rare instances if proper aseptic measures are not followed.