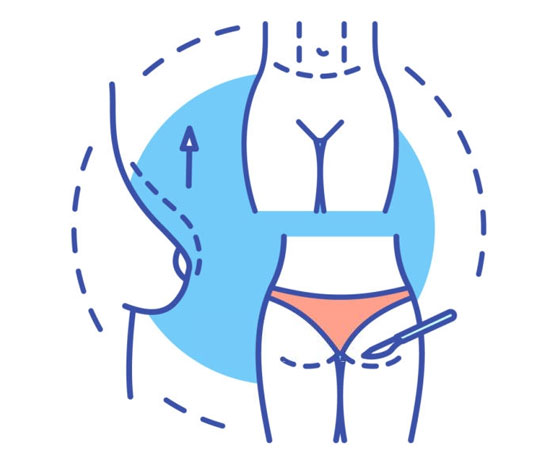 Cosmetic makeovers are becoming very popular owing to their increased awareness, acceptability and affordability. We at Cosmetiq Clinic have a well-qualified team of doctors and support staff with cutting-edge machinery and a state-of-the-art setup to help you rediscover your youthful look. A mommy makeover is a procedure that brings mothers back to their pre-pregnancy state. It is a surgery in which different procedures are combined to address different anatomical problems. Abdomen and breast surgeries are the most common combinations with added arm, thigh, waist, back roll or chin liposuction. The type of surgeries to be combined depends on the client's problems and her preferences.
Liposuction or tummy tuck?
It's a very critical call for the clients to decide on whether they need a minimally invasive procedure like liposuction or a more extensive procedure like a tummy tuck. The decision will be taken after considering various factors, for example the amount of skin excess, the client's age, chances of skin retraction, laxity of abdominal wall muscles, the amount of fat inside the abdominal cavity, presence of stretch marks and completion of family. Most often a mommy makeover will need a tummy tuck and liposuction rather than a liposuction alone.
Breast augmentation or breast lift?
A breast augmentation or breast lift is like a breast reduction except that the tissue, which was supposed to be removed in breast reduction, is preserved in this procedure. The extra tissue is moved upwards with its blood vessels and fixed upwards to give an extra projection to the breast, like an implant.